Product Features
10.1" 1280x800 IPS LED Panel with P-Cap Touch
ARM Cortex A7 Quad Core 1.5GHz • Android 4.2
IP65 water and dust proof
Built-in Motorola SE4500 2D Barcode Reader
8MP Main camera with LED flash in rear / 2MP Webcam in front
Service Window for 3G/4G SIM Card Slot
With Optical Bonding for Sunlight Readability
---
Enterprise-Ready, Rugged Android Tablet with Rapid Processing Power
The M101M4 is the first Android-ready rugged tablet is built to withstand even the most challenging environments. The industrial-grade CPU features a 1.5GHz ARM Cortex A7, Android 4.2, and protection against shock, dust, drops and liquid. The M101M4 is a powerful solution for maximizing efficiencies in Transportation, Manufacturing, Direct Store Delivery, and Warehouse.
---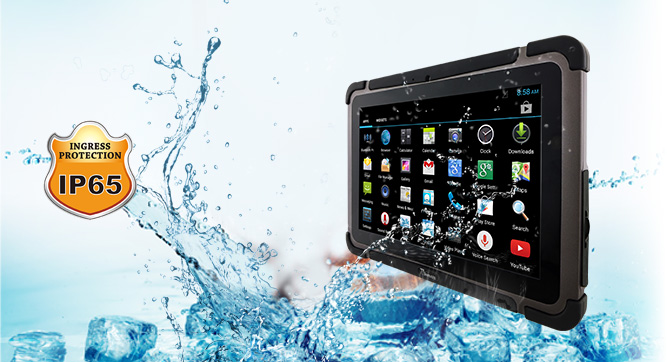 Waterproof design
With specially designed sealed housing and covered I/O ports, the M101M4 is dust tight, and can withstand water jet against the device enclosure, making the device ideal for use in harsh environment.
---
Multi-touch Projected Capacitive Touch
The minimum 4-point Multi-touch Projected Capacitive Touch technology allows users to switch windows, take snapshots, zoom in and rotate easily to take full advance of Android 4.2 touch interface.
---
CPU Designed for Tablets
The M101M4 runs on a non-specified 1.5GHz ARM Cortex A7 processor, there's 1GB of RAM and mass storage consists of 16GB of eMMC flash. That's plenty enough to run Android, and if more storage is needed, there's a microSD card slot.
---
Real-time Data Connectivity
Real-time data access to the right information is very important to mobile users. M101 offers built in 3G, GPS, WiFi 802.11 a/b/g/n, Bluetooth 3.0 which enable users to get connect in the way that best suits their needs. With built-in 8.0 Mega Pixels camera on rear side, users can capture photos, videos, documents instantly, or utilize the front 2.0 Mega Pixel camera for application such as user self video recording, or video communication.