CipherUSB is a family of hardware encryption solution to provide bullet proof security to your sensitive data stored in the hard drive, removable drive, flash media, optical media or in the Cloud. The CipherUSB products incorporates a NIST and CSE certified hardware crypto engine to secure the data, using the NIST approved AES 256-bit encryption algorithm. Unlike software encryption product that relies on the processor power to encrypt the data, the CipherUSB encrypts data using its integrated hardware crypto engine and result in optimal performance in any system.
The CipherUSB products comes in choice of models with various features to meet the needs of your applications and security:
Choice of CipherUSB FLE (File Level Encryption) or FDE (Full Disk encryption). 

FLE solution allows encrypting any file stored in any drive, media, network or Cloud storage whereas a FDE solution encrypts the entire USB storage attached to the CipherUSB adapter. For further detail, please visit the 

the quick comparison

 of these two solutions

Choice of model with just hardware authentication or with 2 factors authentication (password plus the matching CipherUSB dongle)

Choice of Encryption mode in 

ECB or CBC

*

Option to write protection boot sector or the entire disk on the USB storage attached to the CipherUSB. This is a perfect solution for protecting any USB storage against virus and Malware attack. It is also a great solution for forensic application.

CipherUSB FDE (Full Disk Encryption)
Securing data on USB hard drive, flash drive or flash card
The CipherUSB FDE is a small USB pass through dongle that encrypts data stored inside any USB drive (Thumb drive, USB hard drive or any Flash card inserted into a USB reader). Installation is easy. Simply plug the CipherUSB FDE  into any USB port and the USB drive to the back of the CipherUSB FDE, the drive appears in the computer in a few seconds and is ready for use just like any ordinary USB drive. All the data written to the USB drive is automatically encrypted on the fly with the military grade AES 256-bit hardware encryption via a FIPS certified crypto engine . The operation is as simple as using a key to start your car. There is no software or driver to install and no password to remember. There is no measurable performance difference on your USB drive and all your software works the same as before. Since there is no software or password needed to operate the CipherUSB adapter, the encrypted USB drive can be used on any system so long as you have the CipherUSB adapter with you.
 
Securing data in Blu-Ray, DVD or CD disc
The CipherUSB FDE can also encrypt data written onto the Blu-Ray, DVD or CD disc. Again simply plug the CipherUSB FDE into any USB port and the USB Blu-Ray burner or DVD/CD burner to the back of the CipherUSB adapter. Once the drive shows up in your computer, you then launch your familiar burning software. Any data burnt onto the BD, DVD or CD media is automatically encrypted with the AES 256-bit encryption. Again there is no special expensive software to run or training required. You can have encrypted data and standard data burnt onto the same disc by using multi-session burning mode. The encrypted data stored in the disc can only be accessed with the correctly coded CipherUSB in place. Without it, the encrypted session of data will not be visible.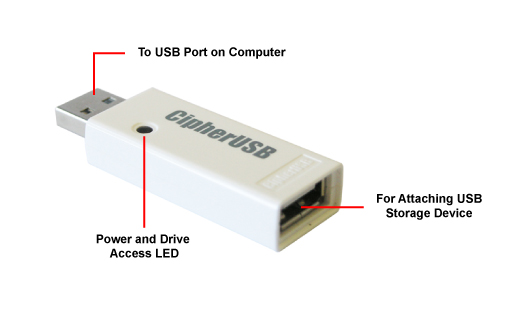 Illustration of the various types of USB device that can be attached to the CipherUSB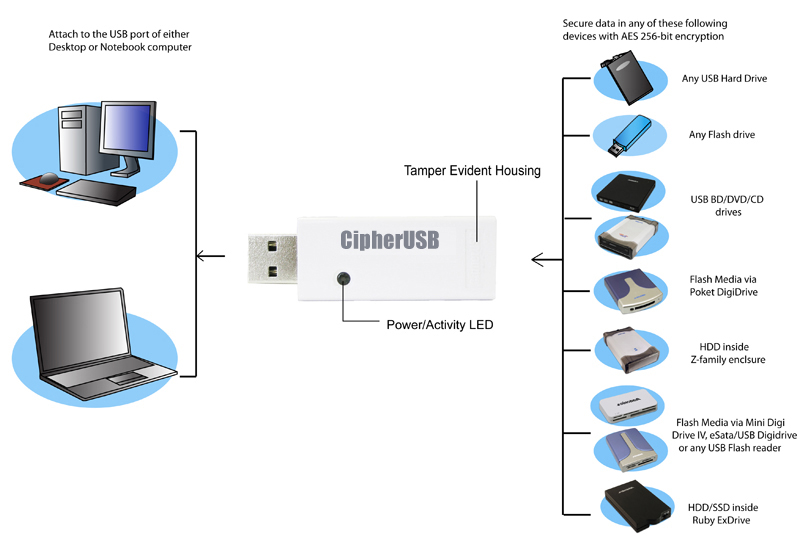 Daisy chaning of multiple CipherUSB* 
The AES 256-bit encryption inside the CipherUSB FDE dongle is considered the highest level of encryption standard there is, secure enough to protect classified information designated as Top Secret. It is theorectically impossible to penetrate the encryption of a single CipherUSB. You can raise the security level to a more complex level by simply daisy chaining two or more CipherUSB FDE dongles. There is no limit as to the number of CipherUSB FDE dongles that can be linked together in this set-up. The daisy chaining of two or more CipherUSB FDE dongles will raise security to another level when a different person controls each CipherUSB. 

Combining CipherUSB with other Addonics Diamond Cipher and Ruby Cipher hard drive

CipherUSB FDE is compatible with any USB mass storage devices. So it can be used in combination with the Diamond Cipher and Ruby Cipher USB drive. This combination will also raise the standard AES-256 bit encryption to another higher level that is practically impenetrable, similar to daisy chaining of two or more CipherUSB adapters,  
* Daisy chaining multiple CipherUSB is supported only on the ECB mode encryption. The daisy changing of multiple CipherUSB ECB dongles results in the equivalent of CipherUSB CBC encryption. 
Absolute security
Come in size of a typical thumb drive, the CipherUSB adapter is designed to be powered directly from the USB port. Each CipherUSB FDE dongle comes with a code utility for you to program your own data encryption key through a recovery password. This can be up to 32 characters long with a complex combination of alphabets, numbers and special characters. The recovery password is then secured with AES 256-bit encryption and stored inside the CipherUSB FDE dongle. If the encrypted USB drive or media is lost or stolen, the data in the USB drive or the media is absolutely inaccessible.
The CipherUSB FDE is a full disk encryption solution which encrypts everything in the drive or the flash media, including the MBR and partition table. When a CipherUSB encrypted drive is attached directly to a USB port without the CipherUSB adapter, the drive will show up as a blank drive. The CipherUSB encrypted BD, DVD or CD discs will not be visible when the disks are loaded to any optical drive without the presence of the CipherUSB. There is no possibility for anyone to gain access to the encrypted data without using the matching CipherUSB adapter. The CipherUSB leaves no trace of any cipher code in RAM or any part of the computer. And since there is no password entered into the computer to operate the CipherUSB, there is absolutely nothing to hack into.
What if the CipherUSB FDE is lost or damaged? You can always purchase another CipherUSB FDE and program it with the same recovery password as you have in your old CipherUSB FDE. Remember this solution is designed for absolute security. So there is no back door if you do not remember your recovery password. It is important that you keep your recovery password or an extra CipherUSB somewhere safe in case of a disaster.

News

2013-06-21
Encrypt all your USB storage
..the CipherUSB a great tool, it comes in at a fantastic price, with a single dongle coming in at under $30...
View article

2013-07-10
Cipher provides an easy way to secure USB drives
The Cipher USB FLE F1 is a surprisingly inexpensive way to turn unsecured drives...into usable, protected stores of information...F1 as a portable encryption command center makes even more sense, because it could be used anywhere to quickly protect data..
View article
Data sheet
Full disk encryption for any USB mass storage device - USB flash drive (Thumb drive), USB hard drive, any flash media via a USB card reader/writer
Encrypt data or image burnt onto Blu-Ray, DVD or CD disc (1). Using multi-session mode (2), encrypted and unencrypted data can be stored onto the same disc
Choice of models with ECB or CBC mode of encryption

Choice of model with the following authentication methods:

hardware authentication

 - CipherUSB FDE contains the password that you program during initial set up. The CipherUSB FDE dongle is like a key to start your car. There is no additional password needed. USB drive that has been encrypted with the matching code will automatically be accessible once it is attached to the computer together with the CipherUSB FDE dongle
2 factors authentication (password plus the matching CipherUSB dongle)* - in this set up, attaching the encrypted drive together with the matching CipherUSB FDE to the computer will not allow the drive to become accessible. You will need to launch the CipherUSB utility and enter the correct password that matches the password stored inside the CipherUSB dongle in order to access the drive. Note that this only authenticate the CipherUSB dongle. It does not allow you to access a drive that has been encrypted by a CipherUSB FDE dongle that has different password.

Note: 2 factors authentication is supported under Windows and Mac OS only

USB drive attached to the CipherUSB FDE can be set to disable WRITE to the MBR or to the entire drive, great for virus protection or forensic application*
Size of a typical USB flash drive
Military strength AES 256-bit hardware encryption
NIST and CSE certified crypto engine from Enova
Full disk encryption - encrypts everything including boot sector and partition table of the drive. 

The USB drive has to be initiated and formatted with the CipherUSB dongle first. So drive or flash media with existing data must be first back up and the data be transferred back to the drive or flash media after initialized by the CipherUSB dongle

No software or driver to install and no special training is required
Windows and Mac utility to program your own password or Cipher code
Tamper Evident housing
Cipher code is stored inside the CipherUSB with AES 256-bit encryption
Direct power from USB port
USB 2.0/1.1 compliance
RoHS Compliant
Operating System independent and compatible with any computer that supports USB mass storage device
(

2 factors authentication is supported under Windows and Mac only

) 
Features comparison of the different CipherUSB FDE models
| | | | | |
| --- | --- | --- | --- | --- |
| Model --> | CA256USB | CA256USB-2 | CA256USB-C | CA256USB-C2 |
| Encryption mode | ECB | ECB | CBC | CBC |
| Authentication | Hardware  | 2 factors  | Hardware  | 2 Factors |
| Supported OS | Any OS | Any OS | Any OS | Any OS |
* Two factors authentication and WRITE Protect are two new  features added to the CipherUSB. If you have an old CipherUSB and want to add these two features, you may contact our tech support department to arrange for a free upgrade. Please be sure that you remember your original password inside your CipherUSB dongle as you will need to reprogramm it again after the upgrade. We will not be able to help you to recovery your encrypted data if you do not remember the original password. It may be safer for you to order an extra unit before you send in your only unit to do the upgrade.
Note:
USB Blu-Ray and DVD/CD burners on Windows 7, XP and Fedora 16. Burning software used in the testing includeds Windows 7 image burn utility, Nero Express 8.0, Nero Essential 9, Image Burn (freewaare),  Burrrn (freeware) and Brasero (Linux burning utility).
Following is a list of optical drive models tested: WH12LS39, GH22NS90, CT21N, CH08LS10, GBW-T10N, GH22NS50
It is not possible for us test all different burning software and models of optical drive out in the market. With optical drive, there is always possibility of incompaibility with certain burning software and computer hardware.
2. Only one encrypted and one non-encrypted session can be mixed on the same optical disc.