Share as many as 16 hard drives over the LAN As large as one exbibyte per drive volume
85MB/sec transfer speed over 1G network Enterprise NAS at a fraction of the cost
This internal GigaNAS adapter is a simple solution for custom build your own high capacity Gigabit Network Attached Storage appliance. Come with all the necessary mounting brackets, this internal GigaNAS adapter can be mounted into any computer chassis with a standard PCI slot or Storage chassis such as the Addonics Storage Tower IV and larger that has a centronic 50-in (SCSI-I) cut out.
The internal GigaNAS adapter is built basing on the same electronic and firmware of the NAS 4.0 adapter. There are two SATA ports and one USB port to support connecting up to a total of 16 drives or RAID volume. By connecting drives to the SATA port of this GigaNAS adapter and onto the Gigabit network, data transfer rate can exceed 85 MB/sec., out performing many expensive NAS solution in the market.
The internal GigaNAS adapter supports storage devices with multiple partitions, with each partition appearing as a share folder on the network. The supported file system includes XFS, EXT2, EXT3, EXT4. NTFS and FAT32. A very large storage in excess of hundreds or thousands of Terabytes storage capacity can be easily built by attaching multiple drives or RAID volume via Port Multipliers or USB hubs. A storage farm with enough storage capacity for commercial data center can be easily put together at just a fraction of the cost of an enterprise storage system. More storage can be added to the Internal GigaNas adapter in many years to come without ever reaching the capacity limitation. Folders in an yof the attached storage can be set up to share both over the LAN or the WAN via the built-in FTP server, making this adapter a great solution for setting up private Cloud storage application.
New powerful features have been added to the internal GigaNAS adapter beginning 6/16/2014 via a new firmware release. There are now full disk sharing and existing folder sharing from drives created by other systems. Shares can be applied to both FTP and SMB for different users and with different READ/WRITE privileges. These new features allows quick set up of sharing information on existing drives through LAN and WAN, making it an ideal tool for setting up a private Cloud storage. It is also a great tool for sharing information on existing drive on a private network such as at home or a temporary LAN without any elaborate administrative set up.
Shown with PCI mounting bracket

 

     
 

Shown without the PCI bracket for installing into
Centronic 50 or SCSI - I cut out

 

 

 

Rear view
Network Connection illustration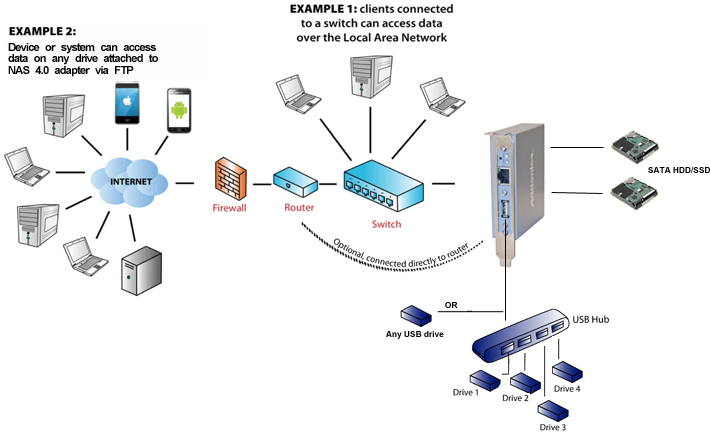 Parametry
A powerful tool for creating a custom Network Attached Storage appliance
Install into any computer chassis via PCI slot 
Can be mounted inside storage chassis or Addonics family storage tower via the Centronic 50-pin (SCSI - I) cut out 
Two SATA ports for connecting up to two SATA hard drives or RAID Volume created by a Port Multiplier
One external USB 2.0 ports for attaching additional USB storage
Great for setting up a private Cloud storage or quick drive sharing (these new feature requires the latest firmware V98a.5 released on 6/16/2014)¹

Support full disk sharing of drive with existing data in SMB and FTP
Support selecting existing folders² that are already on the drive for sharing in SMB and FTP
Full Disk or Folder sharing can be assigned to authorized users with different READ/WRITE privileges

Up to 16 storage devices can be connected to the LAN with the following additional accessories:
Support Up to 15 partitions per storage device - giving a maximum 240 drive volumes on the network
Built-In SMB / Samba server for file sharing over LAN
Built-in FTP server for file access over the internet
Same folder can be shared using SMB on LAN or FTP over WAN, great for setting up your private Cloud storage
Support any eSATA or USB storage with XFS, EXT2, EXT3, EXT4, NTFS or FAT32 file system
Maximum partition size or drive volume capacity:
Storage device with existing data can be attached to the NAS adapter (the folder name must be in large CAP to be sharable). See Q&A section on folder and file security setting.
Built-in file formatting utility for XFS and EXT3
Support 10/100/1000 Mbps network
Maximum data transfer over Gigabit LAN:



 
SATA storage
USB storage
read
write
read
write
XFS
up to 85 MB/sec
up to 45 MB/sec
up to 30 MB/sec
up to 30 MB/sec
EXT3 or EXT4
up to 50 MB/sec
up to 35 MB/sec
up to 30 MB/sec
Up to 30 MB/sec
NTFS
up to 16 MB/sec
up to 5 MB/sec
up to 16 MB/sec
up to 5 MB/sec
FAT32
up to 18 MB/sec
up to 8 MB/sec
up to 18 MB/sec
up to 8 MB/sec

Built-in MLDonkey client for direct download to the attached storage device
Web GUI administration
User management to allow read only or read/write access to folders
USB port can be used to power most 2.5" USB hard drives or any low power USB storage device
Simple to install
Small and light weight. Size of a cigarette pack. Can be installed practically anywhere
Rugged metal enclosure for use in wide range of application environments
Compatible with all Windows OS, Mac OS X, Linux 2.6.x and above
*USB hard drives over 2TB from Western Digital and Seagate such as the GoFlex series are not compatible, please see detail explanation in Q&A section
Note
1. These new features are available on the latest firmware V98a.5. Products that are shipped after 6/15/2014 are loaded with the latest firmware. You may upgrade to the new firmware on your unit by going to the Support tab on this page and follow the firmware upgrade procedure.
2. Only folder name containing no space can be shared
Application note:
When a hard drive is attached to this NAS adapter, a unique mount point is created in the NAS adapter to track this drive. This mount point is associated with the volume serial number (VSN) of the drive. The VSN is a unique # created by the OS when the drive is formatted. The SHARE configuration for each drive follows the mount point of the drive. So in situation where you want to switch out to a different hard drive and use the same share set up, the new hard drive must have the same mount point or VSN as the hard drive being replaced. You may use RAID 1 to duplicate the VSN on both drives or you may use this free software utility http://www.xboxharddrive.com/freeware.html to change the VSN on the drive.
Please note that you cannot mount two or more drives with the same VSN to the NAS adapter, doing so may cause the NAS adapter to crash, unpredictable data loss or other problems. DO NOT use two drives from a mirror set or a clone set as these drives most likely have the same VSN. If you see drives with duplicate mount points under the VIEW DRIVE INFORMATION screen or during the SHARE set up, you should remove one of the drives with the same mount point ASAP.
Specifikace
Two SATA connectors 
One external USB 2.0 type B female connector
USB port can supply power up to 1.5A at 5V 
One RJ45 socket for 10/100/1000Mbps Ethernet connection
File systems support: XFS, EXT3, EXT4, NTFS, FAT16, FAT32
Support connecting up to sixteen (16) storage devices to the LAN by expanding via the USB connection (requires combination of USB hubs or Addonics 5-port HPM-XU Port Multiplier)
Maximum # of partition per storage device - 15
Maximum user accounts:
Maximum # of concurrent connections:

Samba and FTP server combined - 32,000*

LED for power, status and LAN activity
Power consumption: 2 watts @ idle, 2.5 watts average during operation
Dimensions (L x W x H): ~ (105 x 90 x 23) mm or (4.13 x 3.54 x 0.91) in.
Weight: ~169g (6 Oz) including the PCI bracket
Operation Temperature: 0 °C ~ 70 °C
Operation Humidity: 10 ~ 90 %RH
Storage Temperature: -20 °C ~ 70 °C
Storage Humidity: 5~ 95 %RH
* These are the theoretical limits in the kernel. As # of concurrent connections increase, performance starts to decline depending on the drive access activity from the concurrent connections.